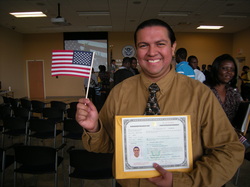 CIR offers Immigration Services to help meet the legal requirements for immigration benefits. We are certified by the Board of Immigration Appeals, to do affirmative immigration work. Affidavits, filing of specific and complicated forms, background searches, keeping up with constantly changing immigration policy and requirements, and many other types of documentation are all a part of CIR's services.

---
For Immigrants:

Victims of a Crime (U Visa, VAWA, T Visa)
DACA and TPS (New and Renewal)

Preparation for Expanded DACA
Preparation for DAPA (take questionnaire)

Legal Residency
Naturalization
Family Petition
Travel Documents
Work Permit
And other type of process with USCIS

Please call us for an appointment.

Other Services at CIR:

Consultation to open your business

Notary Public

All type of procedural help: drivers licenses, title registration, etc.

Office Services: fax, photocopies, etc.

Redaction of Letters, documents and more…


To learn more about our

Translation Services and Interpretation Services

please visit our website

www.cirtranslate.com
---

The
Shepherd Project©
will coordinate compassionate legal, support to the unaccompanied alien children (UAC) arriving in our community after having fled their homes in Central America.CIR is relying on our close ties with the faith community, training those who already have a background in caregiving to act as Compassion Shepherds. The Shepherd Project© will educate and engage Christians in a Biblical response to immigration, offering a practical way to minister to the immigrant community. The project is also closely designed with the legal community to increase capacity for pro bono representation (Legal Shepherds) and mitigate the already crippling backlog in the immigration legal system. Ultimately, we hope to use our experience working in the Triangle as a model to expand the Shepherd Project© across NC and potentially, nationwide.
CIR believes that there is a moral responsibility to help these children, using a holistic, community-based approach to meet their legal, emotional, and financial needs in resolving their current situation. The Shepherd Project© consists of 3 major parts:
Helping families navigate the legal system with preliminary intake, case management, and initial steps before connecting them with a pro bono immigration lawyer (Legal Shepherd);

Providing financial assistance (Financial Shepherd) with coordination of legal system, fees as well as travel expenses to the EOIR Court in Charlotte (for both families and their attorneys);

Assigning each child a trained Compassion Shepherd who will help meet their emotional needs and may accompany them through the court process.

---