Volunteer Opportunity
You still have an opportunity to give back to the community,
come and make this wonderful, and
Don't forget the wrapping paper!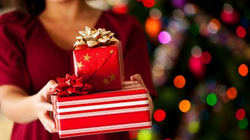 Christmas Toys for Tots Program
an awesome time for many families.
YOU CAN participate with us this

December 15 or 16
What can YOU do? You can...


---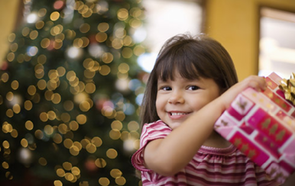 On Friday 15th (between 4-8pm)
Donate your time:
-Load and unload toys from a truck
-Organize toys on tables
-Donate Items needed:
-Coffee and cookies for refreshment
-Material for wrapping the gifts, bows, etc
---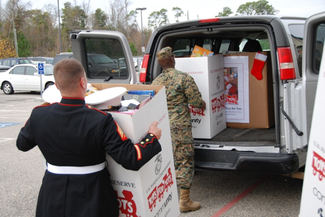 On Saturday 16th
(any time between 9:30 am to 6:00pm):
- Bring a roll of wrapping paper
-Smile and welcome people at the door
-Wrapping gifts
-Praying with families
-At the Registration Table
-Helping families to find their gifts
-Play a Christmas DVD for those waiting their turns
---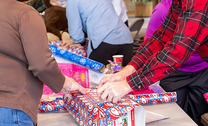 are certain that with YOUR participation,
more than 200 Kids will experience
a more meaningful and wonder-filled
Christmas than ever before.


---
We have begun to register families for the wonderful toy event. Families are excited to choose gifts that their kids will enjoy. Each year, families share with us how much of a blessing the gifts are. They feel very special because they can gift-wrap the toys and take home an armful of beautiful presents to give at Christmas.

Come and be a part of the excitement. Come and share the hope of Christmas while welcoming an immigrant in Jesus' name!


Each year in December CIR's volunteers had the joy to serve more than 80 families and 180 children who registered to receive Christmas gifts thanks to the United States Marines Toys for Tots Foundation. We were able to bless children from four regions North America, Central America, South America, and Africa. Many parents shared very important prayer request, and were prayed for by caring Christians from various churches. Prayer is an important part of what CIR offers to their clients. Throughout the year CIR has many volunteer both US citizens and immigrants who likewise have a desire to show love and compassion to others especially the "Stranger." It was also a privilege to be able to help a few needy families with food and clothing thanks to a partnership with the Raleigh Rescue Mission. CIR's goal is to treat each person, regardless of where they are from, with Christian love and compassion. Our mission is to alleviate poverty through the restoration of 4 key broken relationships, with Self, Others, the Material World and with God.