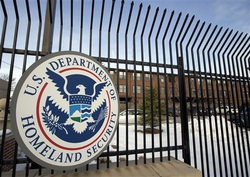 Republican primary voters have an immigration question for candidates: What is your solution to replace the broken system? It can't be to deport 11 million people. The consequences of such an approach are unacceptable for my community and for our economy.
Any credible candidate will have a realistic plan to tackle our broken immigration system head-on, in a way that prioritizes not just our security but also our values. Immigration is about people who strengthen our communities. We need our political leaders, including 2016 presidential candidates, to engage in a constructive debate about how to replace our broken system and move our country forward. As a Christian leader, I'm looking for immigration reform that addresses all aspects of our broken system. A recent nationwide
poll
of evangelical Christians shows support for reform that not only boosts border security but also provides undocumented immigrants an opportunity to earn legal status and eventual citizenship. Current policy is hurting our neighbors, and it is not furthering respect for the rule of law. We need new laws that restore respect for the rule of law and for human dignity, and that keep families together.
We need immigration reform that promotes safe communities and respect for the rule of law. We need reforms that will reinforce the integrity of our national borders and our immigration system going forward, strengthen community trust and cooperation and assure that immigration laws and practices are coherent, consistent and federally funded. Our current immigration system is broken and promotes illegality. An approach to immigration that prioritizes legality and accountability is crucial to restore respect for the rule of law and create safe communities.
The Old Testament prophet
Jeremiah
encourages Gods people seek the peace and prosperity of the city. We need immigration reform that creates jobs and helps businesses and our economy. On Wednesday the government will begin accepting H-1B visa applications, but we'll hit the cap within days. Outdated caps like this one hold our economy back and limit our economic growth. We need reform across the jobs spectrum. We need more skilled workers not only in science and technology, but also in other industries with worker shortages. Right now, the
dairy industry
is threatened by a severe shortage that better immigration laws could solve. We need a process that works for the skilled engineer and the skilled farmworker alike.
A deportation-only policy for the 11 million people who lack documentation would take about 20 years, cost the government between $400 billion and $600 billion, drop GDP by nearly $1.6 trillion and reduce economic growth by at least 5.7 percent. That's according to the conservative
American Action Forum
. We should support candidates who lead on this issue, who want to replace our broken system and put this debate behind them. That means moving forward with constructive immigration proposals, not ideas that would cripple our communities and our economy.