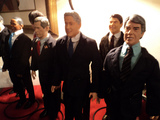 I must say that I dislike and fear government overreach, perhaps more than most, and in that sense I dislike it in any branch of government. I believe Executive Action (EA) is a breathtaking grab of executive power. That said, it is not unconstitutional or illegal. It is understandable that most people are not experts on the immigration law, and can only accept or reject what the media is telling them. I'd like to offer a simple analysis for your consideration.
Margaret Stock
said, "Granting temporary legal status by executive fiat would be "an extraordinary abuse of office" and tantamount to rewriting existing immigration laws. But, the Immigration and Nationality Act and other laws are chock-full of huge grants of statutory authority to the president." This was emphasized by the nonpartisan Congressional Research Service in its 2013 brief. "Congress gave the president all these powers, and now they are upset because he wants to use them. Other presidents have used the same authority in the past without an outcry."
The president could go even further and offer asylum to the Unaccompanied minors. Section 207 of the INA gives him the authority to declare a humanitarian emergency. This could provide refugee status to all of them. In fact the US did exactly that with Operation Pied Piper for children fleeing from World War II, and then again with Operation Pedro Pan to provide a safe haven to Cuban kids.
Work Permits
Until Congress actually passes a law issuing permanent residency, nothing that Obama is suggesting would prevent future presidents from stripping these folks of their temporary status and deporting them. So EA falls short of "legalization" or "amnesty."
Offering work permits isn't some further step. It's part of the deferral process within the law. Once the a person receives a deferment from deportation they automatically become eligible for work authorization under the Immigration Reform and Control Act of 1986.